I am a water baby.I can waddle, swim, dive or float in the sea from dusk till dawn. Imagine my excitement when I learned that I'll be visiting Apo Island in Oriental Negros -- one of the best community-based
marine reserves
in the world!
It's a 45 minute boat ride from Malatapay port to Apo Island where outrigger boats brave at least 1 meter high swells during the Amihan season.Hundred meters off-shore, one gets to see the breathtaking view from the rocky outcrops on the white sand beach to the light house on the top of the hill.
Once on-shore I was greeted by fishermen on paraos (outrigger boat without an engine) paddling their way to the community, kids playing tag on the white sand beach and mothers selling sarongs to the tourists.


The view made the one hundred thirty steps leading to the top of the hill all worth it. If you're brave enough to climb the rusty stairs of the old light house you'll see Mount Talinis looming over mainland
Oriental Negros
and the province island of Bohol and Siquijor at a distance.
The new solar-powered light house and communication station were a clear example of how decentralized renewable energy systems suit our archipelagic country.



Underwater, Apo Island is also
bliss. Imagine this... on your right side the deep blue, on your left an explosion of colors! Massive brain corals and sea fans that are teeming with fishes, a sea snake slithering on nooks and crannies and three... yes, three sea turtles! And this dive site is not even at the sanctuary!

This is why community-based marine reserves are vital to the Philippines. It translates to livelihood, food security and diversity. But these efforts are at threat to the most urgent and devastating concern to date - climate change. To know more about how climate change affects our coral reefs and our oceans, click on this link.


Photos courtesy of Danny Ocampo and Abigail Jabines

READ MORE!
posted by dyabayns @ 7:35 PM, ,


When you're on a golden sea
You don't need no memory
Just a place to call your own
As we drift into the zone
On an island in the sun
We'll be playing and having fun
And it makes me feel so fine
I can't control my brain
-
Island in the Sun, Weezer
Last October 22, I was fortunate to join
Greenpeace
in Apo Island, Dauin , Oriental Negros to launch Pilipinas, Go Renewable! The event was celebrated by the Apo Island community Greenpeace and Solar Generation by installing a solar photovoltaic system at the library of Apo Island Elementary School.

Our day started early at 6am. We were supposed to take test shots just to make sure the documentation of the event is perfect. But guess what... while I was climbing the roof, it started to drizzle! I then took a deep breath, looked at the sky to say thanks for the blessing and fervently hoped that by 9am the rain clouds will go away. It worked :-)

By 9am, the courtyard of the school was packed with students,
teachers, parents, community members and the Greenpeace team. Dauin Mayor Rodrigo Alanano supported the need for renewable energy targets but said they will go beyond 10% by 2010 -- he committed to make Apo Island 100% renewable by the year 2010!
Solar Generation member William Sia of Pulupandan and Star Power celebrity Juddah Paolo assisted in the installation of the panels while Angel Aquino read a story to the students . Sushmita, a grade 6 student, turned on the system to signal the shift of the community to renewable energy .


Meeting a community, such as Apo Island, who is passionate about their environment, gives me
hope for our nation. It showed me that by empowering the youth and the community, people find their voices and are more than willing to make a stand for their future.

Photos courtesy of Rap Rios for Greenpeace Southeast Asia, Danny Ocampo and Aris.


READ MORE!
posted by dyabayns @ 3:36 PM, ,


On the April 11, 1912, the Titanic, in her maiden voyage, started her trip from Southampton for New York. The building and launch of the luxury ship made world headlines with the Titanic heralded as unsinkable and the largest, the fastest, the finest and the most luxurious liner in the world.

On the evening of April 14th, she struck an iceberg off the Grand Banks of Newfoundland. Four hours later she sunk. Titanic became one of the worst and most well known disasters in marine history.

So, is climate change responsible for the sinking of Titanic?

In 1997, the Titanic was once more brought to international attention by no less than Leonardo Dicaprio in the movie aptly named...Titanic. The soundtrack My Heart Will Go On by Celine Dion and the line "...If you jump, I'll jump" captivated audiences worldwide.

So, whats the relation between the sinking of Titanic and climate change? Check out the link below and find out.

http://www.leonardodicaprio.org/whatsimportant/globalwarming_movie01.htm

Watcha think?

____


photo taken from the

Smithsonian Institution

READ MORE!
posted by jassagwan @ 7:15 PM, ,


DA BLOGGERS
Monday, October 23, 2006
So, who's your dadeh? The answer to that one you can email to the blog -- we'll keep it a secret if you want... But right now, apart from you, dear, the next best thing to ask is who the other bloggers of this site are. Herewith, the short shorts on some of the bloggers who plan to take you on the wild weather ride...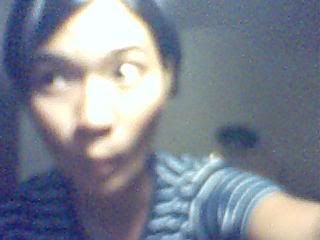 1. The cool sprite's name is Densio. Full stop. A young hardy soul who believes deeply and doubts some of today's certainties with high passion, Densio's a weather watcher who likes caves and clouds and major league baseball.

Blogger.com posed a question to Densio based on a hypothetical situation. Her response may be indicative of her general disposition.

Blogger.com: "You've successfully slain the dragon! How will you toast your marshmallows?"

Densio: "I don't have the marshmallows."

Of her great reads, she lists The Woman Who Had Two Navels as one of her fave books and for raved about movies, Eternal Sunshine of the Spotless Mind is among her greatest hits.

Densio may have a few hundred blogspots out there but for coolmyplanet she chose one of her more recent ones to display with this blog. Check it out here. And be sure to keep an eye out for the rest of her wild weather entries...

Now, where would Densio's marshmallows likely be?


2. Here is Chuck, a sharp blade with few words and an enigma even to his colleagues. Despite his blurred portrait, he's no fuzzy guy and there ain't an ounce of fluff on him (okay, let's be honest, there's at least an ounce...)

Chuck's 25-years old, his sign's Cancer and he was born on the year of the Rooster. Chuck's interested in skateboarding, the superb DC & Vertigo comics and he likes punk music and ska and emo. Do any of you know what emo is? Well, you may just find out if you visit his personal site...

If someone were to probe some more to get more detail on who Chuck really is, this is the enigma's actual answer: "I am basically me: a human being capable of converting oxygen into carbon dioxide and to be honest I've been very good at it since I have been doing that for exactly 24 years."

Blogger.com posed the hypothetical situation and question to Chuck and this is his response:
Blogger.com: "You have to dig a hole to China. Where do you start?"

Chuck: "On the North, the north of everywhere including the North Pole."

Can anyone guess why Chuck chose north as his digging direction?


3. Here is Chico, cool young fashionista with an easy smile and gentle disposition who goes by the name icequeen in the Bloggerworld. She laughs at the slightest provocation, has funny adventure stories (ask her about puting kalabaw) and loves bags and bags and bags. Ok, shoes as well. Actually, she makes both... Her thoughts and some of her wares can be found here.

"You've been invited to a fancy ball but the only thing you have to wear is an orange wooly jumper," Blogger.com tells Chico. "What shoes do you wear?"

Chico: "I will ditch the fancy ball and go to a pub with my friends wearing white pumas."

Smart. She's a generous 25-year old woman, a Scorpio who was born in the year of the Monkey and whose fave music is Johnny Cash and Coldplay, The Beatles, Imago and Sugarfree. She also likes moozik and chocolates (the ones with brandy or nuts?)

She reads voraciously as well and lists among her best reads Memoirs of a Geisha, The Lorax and Chronicles of Narnia and anything by Ayn Rand. For movies, tops are The Incredibles, Patch Adams, Finding Nemo and Kill Bill! How's that for a fine mix?

Bags make Chico tick. Can anyone guess what names Chico gives to her bags?



4. Here is Ala, also known as koAla Paredes, or just Ala. Because sometimes, despite her celebrity status, we think it is her convictions that also serve to define her.

Ala's 23-years old, and not just 23-years old, a free spirit and a nymph who sings (captivating) and paints (captivating) and writes (captivating) and blogs in prolific captivating fashion.

Though we are not sure she'll agree, from the online site that Ala maintains it should be clear to any visitor that Ala grew up with a mature way of weighing the things life keeps bringing her way, which in a way may be responsible for the gentle manner with which she seems to be growing younger by the day.

Her sign's Aries and she was born in the year of the Boar and she can wipe the great big bronze compass of an old ship till it gleams like gold in three minutes. Ala the environmentalist and weather watcher has much to say about many things and her eye for great detail stands out. And while we don't know her as well as her closest friends, this much we know -- there seems to be little gray in Ala's radiant world and there will likely not be any in the foreseeable future. For all the things that she's written in her blog, which has created a hefty following, the truth is this young model/rockstar/painter/writer/vj/blogger's intellect is just beginning to hum...

Every now and then, she'll be sending stories our way so keep a tight watch. Meantime, why not browse through Ala's visual work and wonder how she manages to put word and image and sound all together...


Other bloggers over twice the number of the intros here will be introducing themselves soon. If you have any hypothetical situations-questions you want the un-introduced bloggers to ponder on and answer if and when they manage to do introduce themselves, help cool the planet -- post your thoughts and questions in the comments section right below, or send an email to planetcosmo(at)gmail(dot)com.
READ MORE!
posted by COOL THE PLANET @ 5:05 PM, ,


By Redster

I was surprised when I first heard Parokya ni Edgar's version of the classic Apo Hiking Society classic, Pumapatak na naman ang ulan. It's a song anyone can sing, actually, and yet, apart from private sessions with a clutch of friends and bottles and a guitar, before the tribute album came out only Apo could deliver the song in its intended simplicity without slipping into sappiness or melodic sophistry. Until Chito Miranda and the manic Parokya gang came along, that is, to remake the song into something equally compelling.


The rain is falling again, sings Chito. When I first heard how they rendered the classic I sat down and smiled. It's the old story retold well with Parokya's modulated verve.

That's the thing with good music. A great tune merges with fine words and the distinct sound that sets great bands or musicians apart from the multitude, and you just have to nod your head because everywhere things are OK.


The Apo song reminds me of many things, a good drizzle being a theme that evokes lethargy or introspection or daydreaming. When the rain falls on my solitude, I don't know what else to do now that you're gone, Noel Cabangon sing, in a great bossa nova piece he composed in 1998 called Sa pagpatak ng ulan. Why did it take so long for the song to be included in the albums he has worked on, I asked him one time? The song wasn't quite political, Noel replied somewhat sheepishly, and somehow his answer doesn't feel quite right. As a solitary experience, rain can be quite political -- you wrestle alone with your certainties and your indifference. When a downpour is spent with a group or with someone, it can be positively liberating.


"Make believe we've landed on a desert island, bathe me in the waters, roll me in the moonlight," sings the wonderful Agot Isidro, truly crush ng bayan forever to some. The song's called The Island, one of twelve songs the singer recently put together in a similarly titled album that should make the listener swoon and the weather more humid.

Rainfall, islands, waters. Like good music, the elements give much more than immediate pleasures. We get to take with us memories of the moment and musings of things to come.

But then, what's good music? Well, to each his own, actually. Good music is personal.


I suppose it's easier to say which ones you dislike. Bad music for me is like a hot arid season that overstays its welcome or a summer that seems to take forever to arrive. It can be jarring and disruptive, kinda like Salbakuta playing Bamboo's epic Hallelujah, or Bonnie Raitt singing Barry Manilow.
But what about you? What is "good music" to you? Do you associate rain or quiet islands with any particular song? And yes -- the fun part -- what's your idea of jarring music? Tell me...
READ MORE!
posted by Redster @ 11:51 AM, ,


Welcome. Let's call this our own project. Our O.W.N. project. One World Negotiations. And it's all about you.
The world climate treaty negotiations will take place in Nairobi, Kenya from November 6 to 17
and we'll be blogging soon from Asia and Africa about our climate, our planet, our music and our lives. Blogging about our common canopy -- the one sky we have.

It's important that you take part. Everyday, there's so much to share.



Take what's playing on the stereo right now, Sugarfree's take on the Eraserheads classic Tikman -- new sound re-creating recent music, and it's beautiful. Now, why that kind of gorgeous exchange is not happening elsewhere regarding things that matter just as much -- that's the bummer.

In November, the talks in Nairobi will be all about the future of our planet. Some call the treaty meetings the Kyoto Protocol. Many refer to it as The Climate Change Treaty -- a global agreement designed to stop dangerous climate change from taking place. Climate what? You know, extreme weather becoming more severe. Rising sea levels. Melting ice caps. More coal and oil and deforestation meaning more global warming. The works. And yet the negotiations and issues surrounding the meeting have grown so technical that discussions about it have discouraged too many from taking part and having a say on things.


Fact is, those who may suffer the most -- the voices of the developing world, our voices -- are not being heard. Truth is, now is as good a time as any to join the climate fray.

This blog is one small way for you to get involved -- a small window to Africa and Asia and the climate negotiations that we wish to open for you. So come on in. Welcome to a conversation.

One good future -- shouldn't this be our common project? Tell us all about it -- we'd like to know. After all, di ba it's all about you.

Photo: Raja Ampat, West Papua, October 2005. (c) Greenpeace; Eraserheads pic from Wikipedia; Children from Somalia by Alethea Abuyuan.

Next up -- what's in Nairobi? Who are the bloggers? Where is this headed? Stay tuned... We'd love to swap links...
READ MORE!
posted by COOL THE PLANET @ 3:08 PM, ,