DA BLOGGERS
Monday, October 23, 2006
So, who's your dadeh? The answer to that one you can email to the blog -- we'll keep it a secret if you want... But right now, apart from you, dear, the next best thing to ask is who the other bloggers of this site are. Herewith, the short shorts on some of the bloggers who plan to take you on the wild weather ride...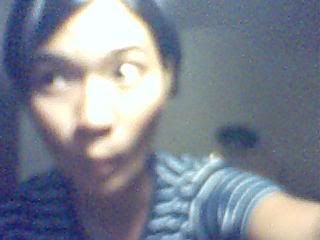 1. The cool sprite's name is Densio. Full stop. A young hardy soul who believes deeply and doubts some of today's certainties with high passion, Densio's a weather watcher who likes caves and clouds and major league baseball.

Blogger.com posed a question to Densio based on a hypothetical situation. Her response may be indicative of her general disposition.

Blogger.com: "You've successfully slain the dragon! How will you toast your marshmallows?"

Densio: "I don't have the marshmallows."

Of her great reads, she lists The Woman Who Had Two Navels as one of her fave books and for raved about movies, Eternal Sunshine of the Spotless Mind is among her greatest hits.

Densio may have a few hundred blogspots out there but for coolmyplanet she chose one of her more recent ones to display with this blog. Check it out here. And be sure to keep an eye out for the rest of her wild weather entries...

Now, where would Densio's marshmallows likely be?


2. Here is Chuck, a sharp blade with few words and an enigma even to his colleagues. Despite his blurred portrait, he's no fuzzy guy and there ain't an ounce of fluff on him (okay, let's be honest, there's at least an ounce...)

Chuck's 25-years old, his sign's Cancer and he was born on the year of the Rooster. Chuck's interested in skateboarding, the superb DC & Vertigo comics and he likes punk music and ska and emo. Do any of you know what emo is? Well, you may just find out if you visit his personal site...

If someone were to probe some more to get more detail on who Chuck really is, this is the enigma's actual answer: "I am basically me: a human being capable of converting oxygen into carbon dioxide and to be honest I've been very good at it since I have been doing that for exactly 24 years."

Blogger.com posed the hypothetical situation and question to Chuck and this is his response:
Blogger.com: "You have to dig a hole to China. Where do you start?"

Chuck: "On the North, the north of everywhere including the North Pole."

Can anyone guess why Chuck chose north as his digging direction?


3. Here is Chico, cool young fashionista with an easy smile and gentle disposition who goes by the name icequeen in the Bloggerworld. She laughs at the slightest provocation, has funny adventure stories (ask her about puting kalabaw) and loves bags and bags and bags. Ok, shoes as well. Actually, she makes both... Her thoughts and some of her wares can be found here.

"You've been invited to a fancy ball but the only thing you have to wear is an orange wooly jumper," Blogger.com tells Chico. "What shoes do you wear?"

Chico: "I will ditch the fancy ball and go to a pub with my friends wearing white pumas."

Smart. She's a generous 25-year old woman, a Scorpio who was born in the year of the Monkey and whose fave music is Johnny Cash and Coldplay, The Beatles, Imago and Sugarfree. She also likes moozik and chocolates (the ones with brandy or nuts?)

She reads voraciously as well and lists among her best reads Memoirs of a Geisha, The Lorax and Chronicles of Narnia and anything by Ayn Rand. For movies, tops are The Incredibles, Patch Adams, Finding Nemo and Kill Bill! How's that for a fine mix?

Bags make Chico tick. Can anyone guess what names Chico gives to her bags?



4. Here is Ala, also known as koAla Paredes, or just Ala. Because sometimes, despite her celebrity status, we think it is her convictions that also serve to define her.

Ala's 23-years old, and not just 23-years old, a free spirit and a nymph who sings (captivating) and paints (captivating) and writes (captivating) and blogs in prolific captivating fashion.

Though we are not sure she'll agree, from the online site that Ala maintains it should be clear to any visitor that Ala grew up with a mature way of weighing the things life keeps bringing her way, which in a way may be responsible for the gentle manner with which she seems to be growing younger by the day.

Her sign's Aries and she was born in the year of the Boar and she can wipe the great big bronze compass of an old ship till it gleams like gold in three minutes. Ala the environmentalist and weather watcher has much to say about many things and her eye for great detail stands out. And while we don't know her as well as her closest friends, this much we know -- there seems to be little gray in Ala's radiant world and there will likely not be any in the foreseeable future. For all the things that she's written in her blog, which has created a hefty following, the truth is this young model/rockstar/painter/writer/vj/blogger's intellect is just beginning to hum...

Every now and then, she'll be sending stories our way so keep a tight watch. Meantime, why not browse through Ala's visual work and wonder how she manages to put word and image and sound all together...


Other bloggers over twice the number of the intros here will be introducing themselves soon. If you have any hypothetical situations-questions you want the un-introduced bloggers to ponder on and answer if and when they manage to do introduce themselves, help cool the planet -- post your thoughts and questions in the comments section right below, or send an email to planetcosmo(at)gmail(dot)com.
posted by COOL THE PLANET @ 5:05 PM,


0 Comments: